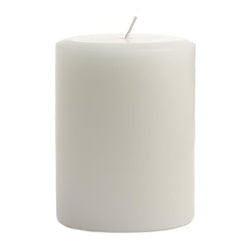 3" x 4" White Pillar Candle
This classic pillar candle is exactly the right size for most of our pillar holders and fits in many hurricanes, lanterns and other candle holders. Unscented and unfussy, pure white pillar flickers with a fresh sophistication.

Burn time : 40 - 45 hours
Dimensions : 3" X 4"
Material : Unscented paraffin wax
Color : White
Delivery Timelines : 5-7 working days
Care Instructions : The first time you light your candle, allow it to burn until the wax pool melts all the way to the edge. Trim your wick each time you light the candle, removing any "bloom" from the previous burn. We recommend lighting a wick that is 1/4-1/2" in length.
Do not allow wick trimmings, dust, or other materials to accumulate in the wax pool.